Machine 'may quadruple' coronary heart and lung transplants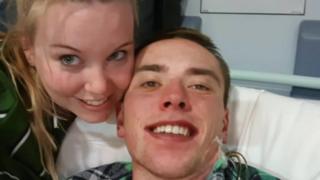 The variety of coronary heart and lung transplants may quadruple because of a "reanimation" machine utilized in a pioneering operation, a hospital says.
The system, developed at Royal Papworth Hospital in Cambridge, managed to pump oxygenated blood into each organs in a world-first process.
The machine can revitalise deteriorating organs permitting "donation after circulatory death" (DCD).
Hospital surgeon Pedro Catarino mentioned it was like "recharging the batteries".
"It is reanimation and then it replenishes the energy stores of the heart, what we call reconditioning, which allows it be transplanted," he mentioned.
"We think it could at least double and perhaps quadruple the number of [heart and lungs] available for transplant."
He mentioned it was desperately wanted, including: "Patients die on the waiting list every day."
Most organs come from people who find themselves mind lifeless. Crucially, docs are in a position to preserve their hearts beating and wholesome till they're eliminated.
Unusually, Aaron Green's got here from a donor who was circulatory lifeless – in different phrases, their coronary heart had stopped beating and their organs had begun to decay.
"With brain death we've got four hours to get the organ from the donor into the recipient. With this circulatory death we have no more than 30 minutes to get the organ on to the machine," mentioned Dr Catarino.
Royal Papworth Hospital has been doing DCD coronary heart transplants for 5 years, however final summer time it carried out a coronary heart and lung transplant utilizing the brand new machine.
Mr Green, 25, continues to be at present the one particular person on the earth to have a coronary heart and lungs from a donor whose coronary heart had stopped.
He mentioned: "The first thing I remember was I woke up, looked at my hand and went, 'Oh, it's not blue'.
"I could not imagine how shortly the guts and lungs kicked in – it was immediately."
Mr Green left hospital two months after the operation and was back playing cricket and riding his bike.
He also has a new job and is planning his wedding in September to his fiancée Julie Payne.
You can see more on this story on BBC Inside Out East on BBC One at 19:30 GMT on Monday 23 March and afterwards on the BBC iPlayer.
Find BBC News: East of England on Facebook, Instagram and Twitter. If you've a narrative suggestion e-mail eastofenglandnews@bbc.